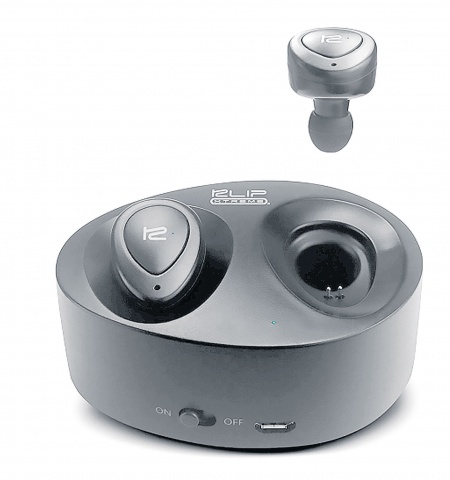 KLIP XTREME has had a reputation of producing reliable, sleek, ergonomic, inexpensive headphones for many years, and has always tried to stay ahead of the competition in terms of modern designs. With consumers now trending towards the reliability of Bluetooth connectivity, especially as many smartphone makers are now doing away with the headphone jack, Klip Xtreme has decided to offer its idea of a convenient pair of wireless earbuds.
They say first impressions last, and Klip Xtreme is definitely mindful of this as it shows in the device's presentation. It comes in an aesthetically pleasing small box bearing the brand's trademark green-and-white colours. Once you open it, you are presented with a premium feel to the packaging, as the buds and their base are placed in a faux-suede container. Inside the box you also find the instruction manual, which is very straightforward with its guidelines. There is also another small box containing your USB cable for charging, as well as a pair of plastic clip-ons to keep the device secure in your ear. You also receive numerous rubber tips for the earbuds in case you lose any.
It gives a full charge in roughly an hour; however, the battery life is not as long as we were hoping for, at 3.5 hours of playback time. In today's world where everyone listens to music, podcasts and games on the go, this is a very miserly offering from Klip Xtreme, as it means you will have to become best friends with your charging base and USB cable. If you are someone who listens to music throughout the day, you will run this battery down in no time and find yourself recharging at least twice or three times for the day.
A good point about the twin earbud experience is that once you connect via Bluetooth to your phone, laptop or whichever other device you wish, you will realise that each headset connects independently of the other. That is, you can choose to use just one earbud in one ear for phone calls, as it has a built-in microphone, or you could just connect both for standard Bluetooth use.
When used to play music, the device produces a hollow musical experience which feels akin to the bass being left behind by the tour bus at a gas station. To be fair, with such small earbuds, it would be hard to produce the heavy, true bass feeling of the brand's higher-end, much-bulkier counterparts, but it would have been better if these features were not advertised.
This device should not be bought with the expectation of being used to listen to your favourite songs all day long. You will quickly find yourself feeling like you are in an expectation-versus-reality meme. The product would be more fittingly marketed as a great device for phone conversations, listening to podcasts and sharing voice notes over instant messaging apps.
Wireless earbuds allow you to escape from the annoyance of being tethered to your computer or mobile phone, and frees you from having to deal with wires shorting out and leaving you with sound coming from only one side. While this device provides that convenience, it's very hard to enjoy it if the earbuds do not properly fit your ear canal. If your ear canals do not properly accommodate these earbuds, expect to spend a lot of time readjusting them, which quickly becomes very annoying. If you plan to wear them while on a morning jog or at the gym, forget about getting this device, because you stand a high chance of them falling out and going missing.
The Klip Xtreme TwinBuds gives a very premium experience in terms of looks, but falls flat in delivering a practical product for daily, long-term use.
The product mentioned in this article was provided courtesy of Royale Computers and Accessories, telephone: 876-906-1067, 906-1068 and 754-5048.